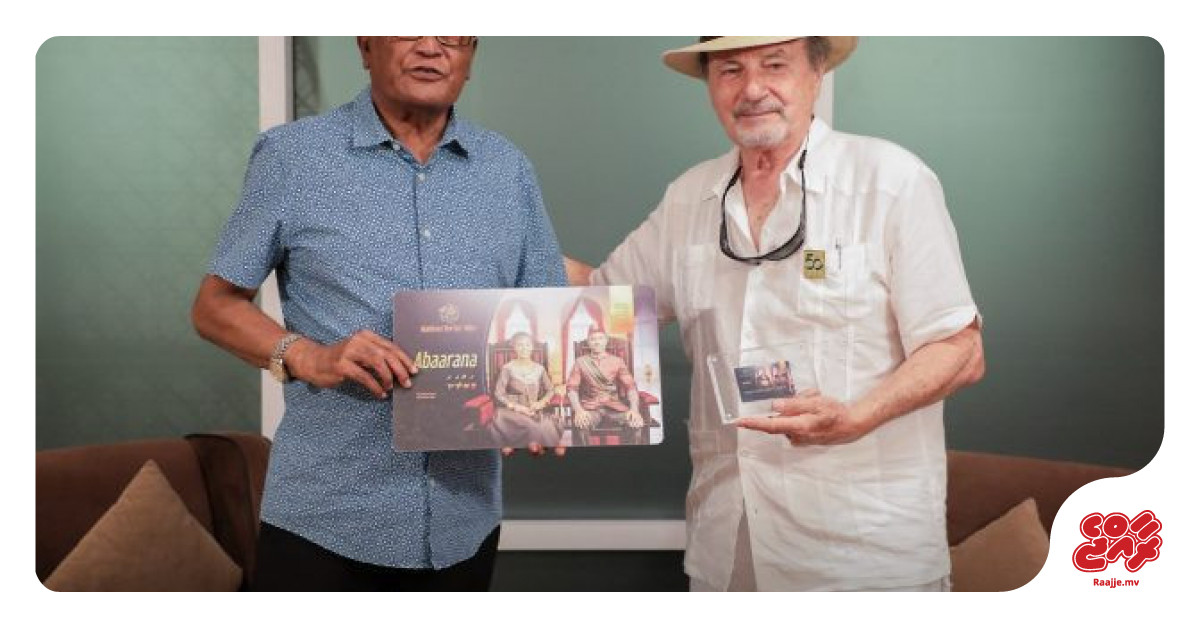 Tourism pioneer Corbin and his daughter awarded first Gold level by Maldives Border Miles
The first-ever Gold Tier 'Abaarana' in the world's leading loyalty program, the Maldives Border Miles, has been awarded to tourism pioneer George Corbin and his daughter Georgia Corbin.
Health Minister Ahmed Naseem presented prestigious Gold Tier to Corbin and his daughter; who is the first child tourist to be welcomed by the Maldives, at an exclusive event held at the VIP Lounge at Velana International Airport on February 20.
Naseem was also one of the pioneers of tourism in the Maldives, 50 years ago when he first met Corbin, a dive tour operator based in Italy, then at the Maldives Embassy in Sri Lanka in 1971. They then worked together to become the pioneers who put the Maldives on the tourism map.
Corbin brought the first group of tourists – mostly divers and journalists – to the Maldives on February 16, 1972. They were to be fascinated by the unfailing allure of the scattering of islands comprising the Maldives and the allure its crystal clear waters had to offer.
In the same year, the Maldives opened the doors to their very first resort, Kurumba Village.
Corbin, who has contributed immensely to the Maldives' tourism industry over the past 50 years, arrived in the Maldives with his daughter on February 15 to take part in some of the events commemorating the country's golden jubilee year for tourism.
As the first recipients of the Maldives Border Miles Gold Tier, Corbin and his daughter are entitled to the most privileged offers, including free VIP services and great discounts at all Maldives Border Miles partners.
Corbin and his daughter Georgia were welcomed at Velana International Airport on Sunday by Deputy Tourism Minister Assad Riza, Health Minister Naseem and a team from the Ministry of Tourism, after a productive six-day visit during which Corbin also met with tourist associations.
Maldives Border Miles was launched by Maldives Immigration, under which visitors will have the opportunity to earn points each time they cross the border with additional points for special occasions. The loyalty program rules also note that partners and customers are both eligible to receive points.
Visitors enrolled in the program will ascend three levels; starting from bronze, 'Aida', silver, 'Antara' and gold, 'Abaarana', they will be entitled to exclusive advantages.
The program is implemented by the Ministry of Tourism, jointly by the Maldives Marketing and Public Relations Corporation (MMPRC) and Maldives Airports Company Limited (MACL).
The loyalty program is expected to open multiple doors for the industry, take the country's tourism to new heights and promote the archipelago nation to eager travelers.