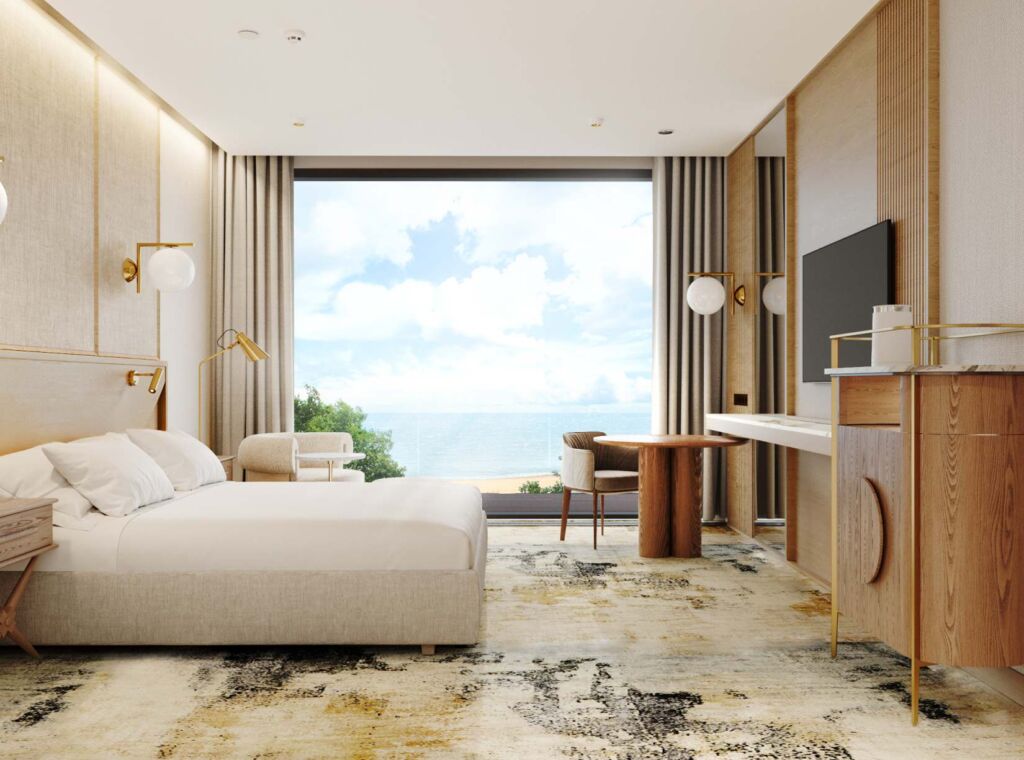 Hilton to open stunning Beach Resort hotel in Odessa
Hilton has signed a franchise agreement with Gefest Group, one of the largest real estate developers in the Odessa region, to build a new 145-room beachfront resort in the popular port city of Odessa, Ukraine . The hotel, which is slated to open in spring 2025, will be managed by Millennium Hospitality, based in Cyprus and located near the famous Arcadia entertainment district.
Patrick Fitzgibbon, Senior Vice President, Development, EMEA, Hilton said: "There is a clear opportunity for growth in Ukraine, with two hotels expected to join our portfolio alongside Hilton Kyiv. Growing international interest in Odessa and strong domestic demand make Hilton Odessa an important addition to our European pipeline. We are delighted to be working with Gefest Group to present our flagship brand in southern Ukraine.
Pantelis Boumbouras, Founder and Chairman of Gefest Group, said: "We are delighted to announce our new development in Odessa, working with Hilton to create an impressive resort that will appeal to domestic and international travelers. With our experience in developing hotels and real estate in Odessa and a partnership with a global brand such as Hilton, we look forward to welcoming clients to the Hilton Odessa.
Vasilis Boumbouras, CEO of Gefest Group, said: "Our company is a leader in commercial and residential construction in the region and we strive to innovate and design green designs in our buildings. We aim to develop one of the best Hilton hotels in the world, both in terms of ambiance and the quality of the materials used. We pay attention to the smallest details that will make the customer experience unique and memorable.
In recent years, Odessa has led the charge of Ukraine's growing tourism industry. Domestic travelers from Ukraine, as well as international visitors from Europe, North America and Central Asia choose the port city of Odessa for its 19th-century architecture, energetic culture and stunning sea beaches. Black. As the largest commercial center in the Commonwealth of Independent States, Odessa's position as a commercial hub means that business travel is also a key driver of the city's growth.
Spread over two buildings, the decoration of the hotel and its rooms will be inspired by the natural surroundings, bringing the neutral sand tones and rugged textures of the beautiful Odessa coast to the interiors of the hotel. With two swimming pools – one indoor and one on the roof – offering stunning views of the coast, the new hotel will also offer direct access to Odessa's sandy beaches. Guests will be able to choose from four restaurants and bars, two of which will be located on the waterfront. The hotel will also include an entire floor dedicated to the conference center with an approximate total area of ​​800m² including a 300m² ballroom. , an executive floor with an executive rooftop lounge and a 600 m² wellness center with heated swimming pool, gym, beauty salon and more. leisure facilities.
The Hilton Odessa hotel will be located a short walk from the popular resort town of Arcadia, home to Arcadia Beach and its entertainment complex with many restaurants, bars and nightclubs. Further north along the coast, visitors will find the Odessa State University Botanical Garden and several pristine beaches along the Black Sea coast, which are easily accessible via the city's sanitary road. , which originates near the city center and continues for more than 9 miles along the coast, past the location of the Hilton Odessa hotel. The city center is less than 15 minutes drive from the hotel at a distance of only 6 km, where travelers can see the famous Potemkin Stairs and the Vorontsov Lighthouse.
Hilton Odessa joins a growing portfolio of hotels in Ukraine, including Hilton Kyiv. Hilton Odessa will be part of the award-winning Hilton Honors loyalty program, allowing more than 118 million members who book directly with Hilton to earn points for hotel stays and experiences, as well as instant benefits including check-in contactless with room selection, digital key and Connected Room.
The hotel will be located at Vannyi Lane and will also have a waterfront building on Primorskyi Lane. It joins more than 140 Hilton Hotels & Resorts establishments marketed or under development across Europe.