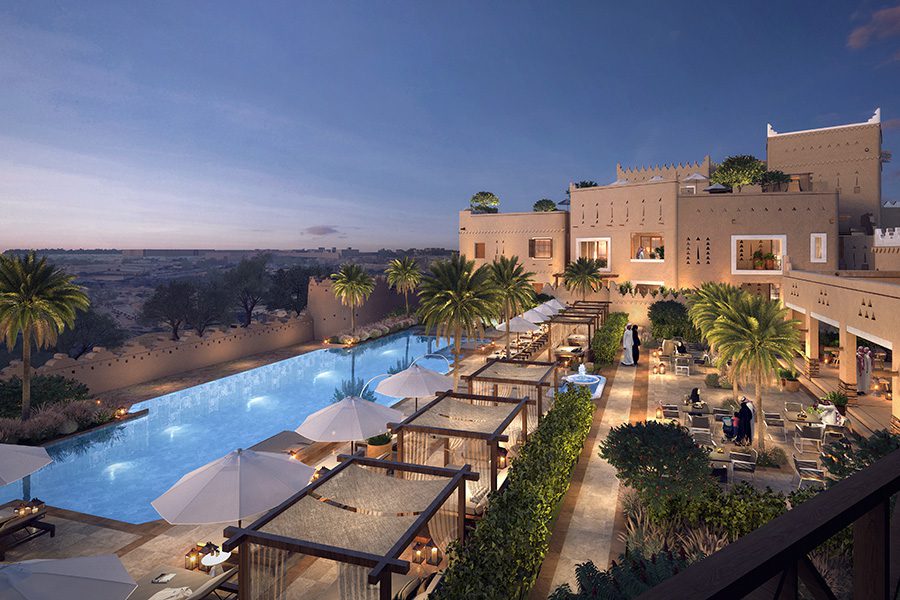 Four Seasons launches luxury hotel in Diriyah
Four Seasons Hotels and Resorts and Diriyah Gate Development Authority team up to launch the Four Seasons Hotel Diriyah, Saudi Arabia. Next Luxury Retreat Will Feature Low-Impact Organic Design From Architectural Firms Aedas and Elastic Architects which honors the regional heritage with nods to the traditional Najdi style. Locally inspired finishes will punctuate interior details, including doors, windows, floor patterns and textiles.
"Our intention is to provide a modern interpretation of these elements and harmonize them with clean-lined furniture that will appeal to the international traveler," explains Elastic partner Enrique Mangalindan. "The interior design should tell the story of the historic Najdi House which, at its core, is authenticity rooted in the history of the Kingdom of Saudi Arabia, while presenting a timeless and neat residential design that is simple , intuitive and of the quality expected of a Four Seasons hotel.
A residential-style ambiance will be favored upon arrival. Check-in counters will occupy the corners of the lavish lobby, blending into its living room layout, while a central courtyard in the atrium will be designed as a traditional Najdi abode. Anchoring the courtyard will be a sculptural indoor water fountain set beneath an artful chandelier that pays homage to the wadi.
Each of the hotel's 150 rooms and suites will announce guests with distinctive door knockers and integrated signage that reinterpret the Nadji aesthetic through a modern lens. Similar craftsmanship will also be conveyed by wooden elements. Wardrobes will infuse a rich and soothing olive hue into the bedrooms, promoting relaxation in tandem with deep lounge chairs and sofas overlooking sweeping views of the landscape. The bathrooms will be designed in the spirit of a hammam, with a sculpted bathtub installed behind a wooden screen and accentuated by soft, indirect lighting.
"We want guests to feel a sense of belonging, ease and comfort when visiting the hotel," adds Mangalindan. "It's important that in our design, every moment and every ritual is valued and celebrated, which is key to creating new memories and creating lasting emotional connections."
Facilities at the Four Seasons Hotel Diriyah, Saudi Arabia will include expansive meeting and event facilities, as well as a seven-room fitness center and spa. A pair of outdoor pools lined with private cabanas and four dining options will complement the on-site social centers.
More than HIGH DEFINITION:
Podcast What I Learned: Jason Pomeranc
4 Must-See Speakers Heading to HD Expo + Conference 2022
BHDM Design envisions a pretty oasis in pink in Miami