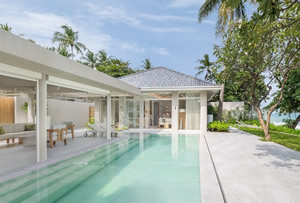 Draw card for return trip to Asia
By Rama Gaind.
It's time to dust off leave your suitcases and go on vacation to a place that has established itself as one of the most visited tourist destinations in the world: Thailand.
According to the Tourism Authority of Thailand, the kingdom has been ranked the fourth most attractive travel destination in the world after the pandemic. A 2021 Visa Global Travel Intentions study found Bangkok, Phuket, Chiang Mai and Hua Hin to be the top Thai cities that global travelers searched for online.
Some of the reasons people love to travel to this exotic destination include culture, religion, food, nature, water, adventure, sports, and relaxing activities. The "Land of Smiles" is also growing as a health and wellness destination, with a large number of healing and detox centers.
The quiet beaches are another plus. The beaches have warm, clear water and wonderful views. Other reasons include nourishing cuisine, beautiful temples and scenery, colorful history, archaeological sites, and the sea life is simply spectacular. There are many types of beaches in Thai; from quiet to laid back, to those where you party all night long. With over 1,500 miles of coastline to choose from, you have no excuse not to enjoy the sunny beaches that Thailand has to offer.
If you're looking for a luxurious lifestyle, look no further than the Reserve Ocean Pool Villa at Centara Reserve Samui. This is the ultimate setting.
Thailand's leading hotel operator, Centara offers a collection of world-class hotels and resorts where visitors can find their perfect place to stay. There is a diverse portfolio ranging from spectacular city hotels in Bangkok to gorgeous beachside retreats in Hua Hin, Koh Samui and Krabi, fun family resorts in Pattaya and Phuket, havens of adventure in Chiang Mai and Khao Yai, and many more destinations. .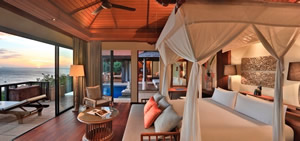 Other popular options include Centara Grand Beach Resort & Villas Hua Hin, the heritage hotel on the Gulf Coast of Thailand, Centara Reserve Samui, one of Asia's hottest new five-star lifestyle retreats which opened in December 2021 to mark the debut of the new luxury Centara Reserve brand, and Centara Grand Mirage Beach Resort Pattaya, the stunning Lost World themed water park.
Pimalai is a five-star sanctuary nestled in 100 acres of unspoilt jungle on the tropical island of Koh Lanta. Experience Pimalai's Hillside Ocean View Private Pool Villas which offer stunning interiors and spectacular views of the Andaman Sea. Guests can spend endless hours relaxing on the 900-meter-long sandy beach, unwinding at the award-winning Pimalai Spa, dining at beach-side restaurants, swimming in elevated infinity pools, or enjoying exhilarating activities such as water sports, tennis, muay thai and Suite.
Incredible alternatives
Unwind in style in the art-inspired private pool suite at Slate Phuket. The Slate, the art-inspired whimsical resort on Phuket's secluded northwest coast, is rolling out the welcome mat for international guests with a slew of enticing rates. Experience-seeking explorers will love the resort's unique dreamscapes, quirky artwork and installations, spectacular restaurants, sparkling pools and stunning Coqoon Spa. A selection of spectacular suites and pool villas offer the perfect place to stay and play.
An amazing alternative you must try is the InterContinental Danang Sun Peninsula Resort. Nestled in nature on the Son Tra Peninsula, this resort offers the ultimate in five-star Vietnamese hospitality.
Vietnam is also now open to international visitors and there can be no better place to rediscover this captivating country than the InterContinental Danang, which was recently named "Best Hotel in Vietnam". Nestled in 39 hectares of nature on the unspoilt Son Tra peninsula, overlooking the ocean, this breathtaking resort is spread over four levels – Sky, Sky, Land and Sea – all connected by a funicular that ascends the wooded hill . Stay in spacious sea-facing rooms, suites, and pool villas, dine at Michelin-rated restaurants, experience immersive activities, or simply relax on the 700-meter-long beach. Pure happiness!
Health warnings
Whichever spectacular Southeast Asian destination you choose to visit, you will be warmly welcomed. After successive holiday seasons when the global COVID-19 pandemic had a significant impact on international travel, Thailand and Vietnam are now welcoming their guests with warm and heartfelt greetings.
However, before you travel, remember to read the health advice from the authorities – for the destination you are visiting – for the latest details on the main risks and advice on how to stay safe.
DETAIL BOX
For more information visit:
www.centarahotelsresorts.com/centara-place-to-be
www.pimalai.com
www.theslatephuket.com
www.danang.intercontinental.com