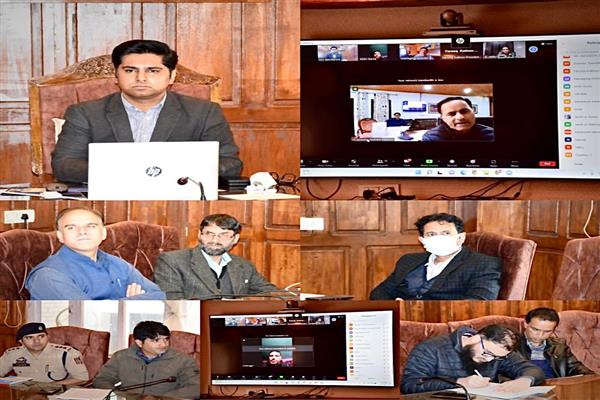 DC B'pora calls for joint efforts to promote the Gurez Valley as a tourist destination
BANDIPORA, APRIL 22 (KNS): Deputy Commissioner (DC) Bandipora, Dr Owais Ahmad and Director of Tourism GN Ittoo today reviewed the promotion of tourism in the Gurez Valley and called for joint efforts of the various civil services, army and police to promote the Gurez Valley near the Line of Control as a tourist destination.
The meeting was attended by JKTDC General Manager, ADDC Bandipora, Joint Director of Planning, Deputy Director of Tourism, SDM Gurez, DFO Bandipora and several representatives of travel associations and agencies including Farooq Ah Kathoo, the chairman of the Association of Travel Agents of Kashmir (TAAK), Nasir Shah. , President Indian Association of Tour Operators (JK Chapter), Mohammad Akram Siah, President Travel Agents Society of Kashmir (TASK), Shamim Shah, Former President Travel Agents Association of India (JK Chapter), Raouf Tramboo, President Adventure Tour Operators Association of Kashmir (ATOAK), Peerzada Fayaz Ahmad, Indian Society of Ecotourism State Coordinator, Sameer Ah Baktoo, Federation of Owners of Ecotourism Campsites and Resorts, Syed Zeeshan and Zoe Priyanka of Highland Excursions.
The meeting discussed the tourism potential of the Gurez Valley and measures to promote the Gurez Valley as a tourist destination, in addition to discussing the development of tourism infrastructure and other measures to ensure a smooth journey of tourists in Gurez valley.
The participants highlighted various problems and discussed solutions to solve the problems.
Dr. Owais, while reviewing the tourism infrastructure available in the Gurez Valley, said that Gurez has huge tourism potential and the administration is in the process of upgrading the infrastructure to attract more tourists to the scenic valley. He said that although the valley remains cut off from the rest of the world during winters, it has huge potential for winter tourism with world-class runs in addition to potential for rafting.
He said this year they expect a better rush of tourists and efforts are underway to ensure their stay is smooth. He said that the TRC Gurez is functional and asked those concerned to follow the joint reservation mechanism by the TRC and the district administration.
During the meeting, GN Ittoo highlighted various measures taken by the tourism department to promote tourism in the Gurez Valley and also ensured full support and cooperation with all stakeholders in capacity building and provision of the necessary logistics for Gurez.
It was also mentioned that local young people will be trained in various trades related to tourism so that they too can earn a living. Dr Owais said a refresher course for those affected will be held for better reception facilities. He asked the SDM to prepare the list of local employees to fill in for this season.
Officers have suggested allowing unemployed youths to erect tents on private land for tourists, in addition to stating that local landlords will also provide home-stay facilities for tourists. He said proper care will be taken for cleanliness of sanitation and permission for private landowners to erect tents.
He instructed relevant officers to check the status of previously issued stay-at-home permits and ensure proper safety guidelines while moving to restricted areas in the Gurez Valley. He urged SDM Gurez and AD Tourism to jointly conduct a security audit and review arrangements.
Dr Owais said this year they have offered activities throughout the season and major events will be held in the initial phase. He asked those concerned to submit proposals well in advance for approval in time.
He said the administration is trying to carry out various activities like cycling, paragliding, water sports, in addition to involving the locals.
TAAK representatives raised various issues related to waste management, cleanliness and road connectivity in addition to other measures to be taken for a smooth stay and movement of tourists.
Dr. Owais further said that the Gurez Valley, in particular, has everything to offer tourists of all types, from site seeing to adventure tourism. He said the Lieutenant Governor's administration is keen to put the valley on the international tourist map. He said steps were being taken to improve connectivity with the scenic valley, especially during the winter months, to boost tourist arrivals.
The DC called for joint efforts from different departments including the civil administration to promote the beautiful Gurez Valley.
The Ministry of Tourism informed that it promotes the Gurez Valley through tourism fairs, tours and has published many publicity materials to showcase its culture, heritage, arts and crafts in more of its glistening beauty while the military's efforts to promote Gurez tourism were also appreciated. (KNS)