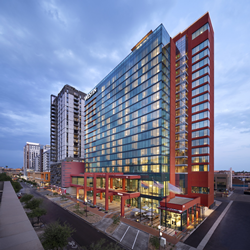 Crescent Hotels & Resorts opens spectacular Westin Tempe hotel
We're excited to provide the Tempe community with a new hotel with all the amenities a modern traveler is looking for … The Westin Tempe has everything guests want under one roof.
TEMPE, Arizona (PRWEB)
01 September 2021
Crescent Hotels & Resorts, a leading hotel management company, is proud to announce the grand opening of the Westin Tempe and thrilled to welcome its guests to the brand new Valley Wellness Hotel.
Located in downtown Tempe, the property offers the perfect oasis for guests seeking a relaxing stay and a convenient location. With plenty of opportunities for guests to relax and rejuvenate, the Westin Tempe is poised to be the premier hotel for business and leisure travelers.
From accommodations to services and amenities, the hotel infuses well-being into every guest experience. Combining the vibrant atmosphere of Tempe with luxurious elements, the hotel has been designed to enhance the well-being of guests and introduce them to the unique local culture.
With 290 spacious, contemporary guest rooms and 18 suites, travelers have the promise of a "refreshing night's sleep" in Westin's signature Heavenly® Beds. Upscale rooms and suites balance natural elements with modern minimalism, while spa-centric bathrooms – fitted with rainfall showerheads – enhance the tranquil aesthetic.
To help guests be the best versions of themselves, a state-of-the-art fitness center is accessible 24/7 and offers Peloton bikes, Pilates balls and mats, free weights and equipment cardiovascular.
"We are delighted to provide the Tempe community with a new hotel with all the amenities a modern traveler is looking for," said Michael George, CEO of Crescent Hotels & Resorts. "From the new Fitness Center, which can rival any boutique gym experience, to the stunning views and rooftop nightlife experience, the Westin Tempe has it all. customers want it under one roof. "
Floor-to-ceiling windows offer sweeping views of the downtown Tempe skyline and picturesque Tempe Butte, better known as "A" Mountain by locals; and offer stunning views from every floor of this 18-story hotel. On the rooftop you can admire the view while swimming in the heated infinity pool and hot tub. Or they can soak up their surroundings in awe from a perch in Skysill Rooftop Lounge – the tallest and coolest open-air bar in the valley – as they sip and relish through cocktails, a generous wine list and shared platters.
"The Skysill Rooftop Lounge is just one of three unforgettable dining experiences guests can try at Tempe Westin," said Patti Hunt, General Manager of the brand new hotel. "We are also proud to present The Terra Tempe Kitchen & Spirits, our signature restaurant, to Westin Tempe customers and the local community. Specializing in Sonoran cuisine, Executive Chef Alexander Robinson's menu brings a healthy twist to Mexican and Southwestern staples, incorporating fresh, seasonal and local ingredients and flavors.
Terra Tempe Cuisine & Spirits, located on the ground floor of the property, is now open every evening for dinner service starting at 4 p.m. Guests and local neighbors can now also visit Cup of Joe Market Coffee, where they will find a friendly and relaxed atmosphere with fresh coffee and gourmet take-out options. "Whatever dining experience guests are looking for, they will find it here at the Westin Tempe," said Hunt.
To complement its unrivaled cuisine, the Westin Tempe also offers upscale event space. With over 21,000 square feet of indoor and outdoor space – including two ballrooms and an outdoor patio – the hotel is the greater Phoenix's newest and sought-after setting for corporate and social events. State-of-the-art audiovisual technology and high-speed Internet will enhance meetings, conferences and seminars. Group guests also have the option of hosting private outdoor events on the Sunstone Terrace (adjacent to the meeting space) or at the Skysill Rooftop Lounge. For those who wish to organize galas or large-scale weddings, the Opal Ballroom can accommodate up to 300 guests.
While guests have everything they need on-site, the property's central location in the city center begs guests to explore and experience Tempe. Just steps away is historic Mill Avenue, home to some of Tempe's best shopping, dining, and entertainment options. Arizona State University, Sun Devil Football Stadium, and the Desert Financial Arena are within a five-minute walk of the hotel. Phoenix Sky Harbor International Airport is less than five miles away, and the property offers convenient valet parking for overnight guests.
For more information, to see photos, or to book your stay, visit WestinTempe.com or dial 480-968-8885.
About Crescent Hotels and Resorts:

Crescent Hotels & Resorts is an award-winning, nationally recognized hotel and resort operator. Crescent currently operates more than 100 hotels and resorts in the United States and Canada. Crescent is one of the few elite management companies approved to operate upscale and luxury hotels under the Marriott, Hilton & Hyatt brand families. Crescent also operates a collection of independent lifestyle hotels and resorts under the Latitudes Collection umbrella. Crescent's clients include leading REITs, private equity firms and major developers. For more information, please visit http://www.crescenthotels.com and http://www.latitudesbycrescent.com or connect with Crescent on LinkedIn.
About Westin:

Westin Hotels & Resorts, a global leader in hospitality wellness for over a decade, empowers guests to transcend the rigors of travel as they travel through the brand's six pillars of wellness: sleep well , eat well, move well, feel good, work well and play well. At 225 hotels and resorts in nearly 40 countries and territories, guests can experience wellness offerings that include the brand's iconic and award-winning Heavenly Bed, revolutionary equipment loan program, fitness equipment TRX at WestinWORKOUT ™ Fitness Studios, delicious and nutritious. menu offerings, and more. Stay connected to Westin on Twitter, Instagram and Facebook. Westin is proud to participate in Marriott Bonvoy ™, Marriott International's global travel program. The program offers members an extraordinary portfolio of global brands, exclusive experiences on Marriott Bonvoy Moments and unparalleled benefits, including free nights and recognition of Elite status. To register for free or for more information about the program, visit MarriottBonvoy.marriott.com.
Share the article on social media or by email: