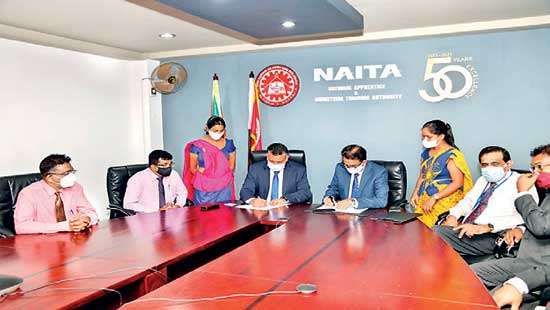 Browns Hotels & Resorts launches 'Futurekey' – Business News
---
Signing of a Memorandum of Understanding by Eksath Wijeratne, Group Managing Director, Browns Hotels & Resorts and Tharanga Gamlath, Chairman, National Apprenticeship and Industrial Training Authority
A Memorandum of Understanding has been signed between Eksath Wijeratne, Group General Manager, Browns Hotels & Resorts and Tharanga Gamlath, Chairman, National Apprenticeship and Industrial Training Authority (NAITA), forming a partnership to upskill and retrain young people.
Browns Hotels & Resorts is proud to be the first hotel chain to implement a training program where participants receive an internationally recognized qualification in addition to being compensated well above industry standards, enabling them to thrive in the hotel industry. Futurekey consists of a management training program for graduates and an apprenticeship for school leavers.
The FutureKey Management Trainee program is a 2-year program designed to give trainees exposure to Front Office, Housekeeping, Food & Beverage, Culinary, Human Resources, Finance, Sales & Marketing functions across the various Browns Hotels & Resorts spread around the island. Upon completion, graduates will be eligible for a leadership position within the organization in addition to an internationally accredited NAITA Level 6 NVQ qualification.
The FutureKey Apprentice program is a 1-2 year program where candidates can choose to specialize in Front Office, Housekeeping, Food & Beverages, Culinary or Maintenance departments, and will be facilitated at three main locations; Club Hotel Dolphin in Waikkal, AvaniBentota Resort and The Calm Resort & Spa in Pasikuda.
Upon completion, participants will receive NVQ Level 3 to 4 qualifications that are internationally accredited by NAITA, opening many doors in the hospitality industry, both locally and internationally.